Facebook

Pinterest

Save

Print
(function() { document.addEventListener('DOMContentLoaded', function() { var componentMetadata = JSON.parse('\x7b\x22componentName\x22\x3a\x22ActionToolbar_0062db4d-452e-4eba-af2d-b8dce44acc50\x22,\x22deferOptions\x22\x3a\x7b\x22deferComponent\x22\x3afalse,\x22deferType\x22\x3a\x22None\x22,\x22deferId\x22\x3a\x22rd073d7431dfb469c91260522aae5c1a1\x22,\x22deferredContainerId\x22\x3a\x22\x2factionToolbar\x22,\x22deferredContainerView\x22\x3anull\x7d,\x22viewName\x22\x3a\x22ActionToolbar\x22\x7d'); var configuration = {"toolbarSettings":{"id":"0062db4d-452e-4eba-af2d-b8dce44acc50","moreButtonText":"More","lessButtonText":"Less","regAction":"FAVORITE","eSourceCode":14171,"useModalRegistration":true,"namePassedToEvents":"RDPToolbarRAIL","buttons":[{"providerName":"facebook","providerNamePassedToEvents":"Facebook","privacyOptOut":false,"privacyOptOutMessage":"\u003cdiv class=\u0027privacyMessage\u0027\u003e\n\u003ch3\u003eThis feature is not available with your current cookie settings.\u003c/h3\u003e\n\u003cp\u003eYou can \u003ca href=\u0027#\u0027 data-show-preference-center=\u00271\u0027\u003eupdate your privacy settings\u003c/a\u003e to enable this content. Please enable "Functional Cookies" to use this feature.\u003c/p\u003e\n\u003c/div\u003e","shareUrlFormat":"//facebook.com/sharer/sharer.php?u={0}","id":"9e7892b7-5ea2-441b-ab66-55a566402b31","allowedForAnonymousUsers":true,"type":"Social","displayName":"Facebook","namePassedToEvents":"Facebook"},{"providerName":"pinterest","providerNamePassedToEvents":"Pinterest","privacyOptOut":false,"privacyOptOutMessage":"\u003cdiv class=\u0027privacyMessage\u0027\u003e\n\u003ch3\u003eThis feature is not available with your current cookie settings.\u003c/h3\u003e\n\u003cp\u003eYou can \u003ca href=\u0027#\u0027 data-show-preference-center=\u00271\u0027\u003eupdate your privacy settings\u003c/a\u003e to enable this content. Please enable "Functional Cookies" to use this feature.\u003c/p\u003e\n\u003c/div\u003e","shareUrlFormat":"//pinterest.com/pin/create/link/?url={0}","id":"58ba9650-477b-4abe-bb46-1a60912cc27c","allowedForAnonymousUsers":true,"type":"Social","displayName":"Pinterest","namePassedToEvents":"Pinterest"},{"addFavoriteErrorMessage":"Sorry, something went wrong. Please save again.","removeFavoriteErrorMessage":"Error occurred while removing from favorites","regAction":"FAVORITE","eSourceCode":14171,"isCurrentUserAnonymous":true,"isFavoriteItem":false,"id":"a4fff957-6f0a-4e2f-820f-3f2cfbceef64","allowedForAnonymousUsers":false,"type":"Favorite","displayName":"Save","namePassedToEvents":"Favorite"},{"layoutParameter":"p%3d1","id":"9440f541-1622-407b-a529-9cb1f48ddf3a","allowedForAnonymousUsers":true,"type":"Print","displayName":"Print","namePassedToEvents":"Print"}],"dialogSettings":{"cancelButtonText":"Cancel","copyToSenderLabel":"Send a Copy to Myself","emailAddressesLabel":"* Email Address(es)","emailInstructionText":"Separate email addresses with commas","fromText":"From:","privacyPolicyText":"\u003cp\u003e\u0026copy;2020 General Mills, Inc. All Rights Reserved. This information will only be used to send an email to your friend(s) and will not be saved. Please read our \u003ca rel=\u0022noopener noreferrer\u0022 href=\u0022http://www.generalmills.com/company/privacy-policies/privacy-policy-us\u0022 target=\u0022_blank\u0022 shape=\u0022rect\u0022\u003ePrivacy Policy\u003c/a\u003e.\u003c/p\u003e","requiredFieldText":"* Required","sendButtonText":"Send","senderEmailAddressLabel":"* Your Email Address","senderFirstNameLabel":"Your First Name","sendToText":"Send To:"},"controlIds":{"toolbarId":"gmi_actionToolbar_0062db4d-452e-4eba-af2d-b8dce44acc50","moreButtonId":"gmi_actionToolbar_0062db4d-452e-4eba-af2d-b8dce44acc50_moreButton","moreButtonTextId":"gmi_actionToolbar_0062db4d-452e-4eba-af2d-b8dce44acc50_moreButtonText","collapsedButtonsId":"gmi_actionToolbar_0062db4d-452e-4eba-af2d-b8dce44acc50_collapsedButtons","secondaryButtonsId":"gmi_actionToolbar_0062db4d-452e-4eba-af2d-b8dce44acc50_secondaryButtons"}},"contentId":"bd7652b9-4f22-472f-83ea-567eb25fba15","isCurrentUserAnonymous":true,"isFavoriteItem":false,"privacyOptOut":false,"shareCounts":{"social.facebook":"0","social.pinterest":"0","favorite":"0","print":"0"},"pageAttributes":{"title":"Cajeta Apple Pecan Upside Down Cake","image":"https://images-gmi-pmc.edge-generalmills.com/47af8271-8df5-4a97-9e17-bc7c0dd9207b.jpg","url":"http%3a%2f%2fwww.quericavida.com%2frecipes%2fcajeta-apple-pecan-upside-down-cake%2fbd7652b9-4f22-472f-83ea-567eb25fba15","contentType":"Recipe","contentId":"bd7652b9-4f22-472f-83ea-567eb25fba15"}}; var moduleName = 'actionToolbar'; var isVueModule = true; GeneralMills.PandoSites.RegisterControlInstance(moduleName, configuration, componentMetadata, isVueModule) }); })();
Cajeta Apple Pecan Upside Down Cake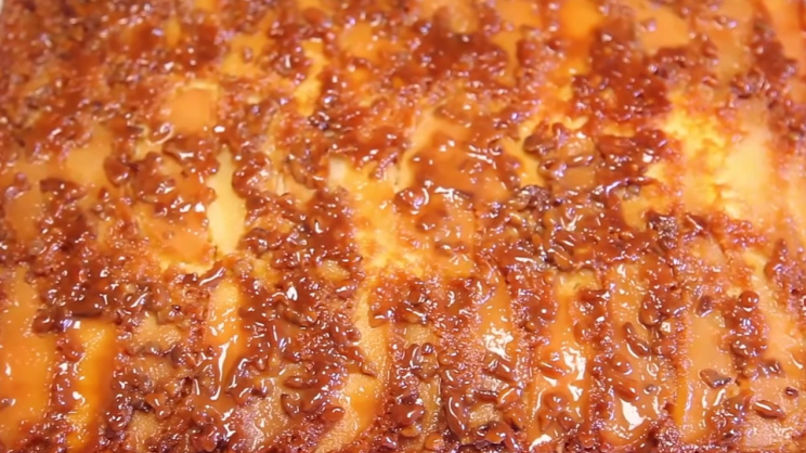 (function() { document.addEventListener('DOMContentLoaded', function() { var componentMetadata = JSON.parse('\x7b\x22componentName\x22\x3a\x22VideoOverlay_3f096167-8a59-43c4-961a-84f57d84be42\x22,\x22deferOptions\x22\x3a\x7b\x22deferComponent\x22\x3afalse,\x22deferType\x22\x3a\x22None\x22,\x22deferId\x22\x3a\x22r9133b4d02ba24c059deb9c3c4edbc208\x22,\x22deferredContainerId\x22\x3a\x22\x2fmain\x2frdpImage\x22,\x22deferredContainerView\x22\x3anull\x7d,\x22viewName\x22\x3a\x22VideoOverlay\x22\x7d'); var configuration = {"id":"Ecy0MpweQ5w","name":"Apple Peacan Upside Down Cake","autoplay":true,"loadingImageUrl":"/-/media/PandoSites-DevOnly/Shared/YouTube/loading.gif","loadingImageAltText":"Loading","privacyScreenContent":"\u003cdiv class=\u0022privacyMessage\u0022\u003e\n\u003ch3\u003eThis feature is not available with your current cookie settings.\u003c/h3\u003e\n\u003cp\u003eYou can \u003ca href=\u0022#\u0022 data-show-preference-center=\u00221\u0022\u003eupdate your privacy settings\u003c/a\u003e to enable this content. Please enable all cookies to use this feature.\u003c/p\u003e\n\u003c/div\u003e"}; var moduleName = 'videoOverlay'; var isVueModule = true; GeneralMills.PandoSites.RegisterControlInstance(moduleName, configuration, componentMetadata, isVueModule) }); })();
Prep

20

min

Total

1

hr

10

min

Ingredients

8

Servings

12
Ingredients
3

eggs

1/2

- cup vegetable oil

1

- cup water

1

- package Betty Crocker™ Super Moist™ yellow cake mix

1

- cup pecan (chopped)

2

- large gala apples (peeled and sliced)

Non-stick baking spray

1

- cup cajeta
Directions
(function() { document.addEventListener('DOMContentLoaded', function() { var componentMetadata = JSON.parse('\x7b\x22componentName\x22\x3a\x22WakeLock_3f096167-8a59-43c4-961a-84f57d84be42\x22,\x22deferOptions\x22\x3a\x7b\x22deferComponent\x22\x3atrue,\x22deferType\x22\x3a\x22OnDemand\x22,\x22deferId\x22\x3a\x22rcf80b67a32c14b1f9924623c0dd8c456\x22,\x22deferredContainerId\x22\x3a\x22\x2fmain\x2frdpSteps\x2frdpWakeLock\x22,\x22deferredContainerView\x22\x3a\x22RecipeSteps\x22\x7d,\x22viewName\x22\x3a\x22WakeLock\x22\x7d'); var configuration = {"textAbove":"Prevent your screen from going dark while you cook.","timeoutDurationMs":3600000}; var moduleName = 'wakeLock'; var isVueModule = true; GeneralMills.PandoSites.RegisterControlInstance(moduleName, configuration, componentMetadata, isVueModule) }); })();
1

Preheat oven to 350° F.

2

Add eggs, vegetable oil, water and cake mix to a mixer and mix until smooth. Set to the side.

3

Chop whole pecans and place to the side.

4

Peel and slice apples. Set to the side.

5

Spray a 13x9 cake pan with nonstick baking spray.

6

Pour cajeta evenly into pan. Make sure the entire bottom is covered by brushing it with a pastry brush or the back of a spoon.

7

Sprinkle the top of the cajeta with the chopped pecans.

8

Carefully arrange apple slices in the pan to cover the cajeta and pecans.

9

Pour the cake batter into the pan.

10

Place cake into the oven and bake for 40 to 45 minutes.

11

Remove from oven and allow to cool for 15 to 20 minutes.

12

Then place a large plate on top of the pan and flip over.

13

Carefully remove pan from cake. Enjoy!
(function() { document.addEventListener('DOMContentLoaded', function() { var componentMetadata = JSON.parse('\x7b\x22componentName\x22\x3a\x22RecipeSteps_3f096167-8a59-43c4-961a-84f57d84be42\x22,\x22deferOptions\x22\x3a\x7b\x22deferComponent\x22\x3atrue,\x22deferType\x22\x3a\x22OnDemand\x22,\x22deferId\x22\x3a\x22rcf9b41e01bac4f7db86390320a73f231\x22,\x22deferredContainerId\x22\x3a\x22\x2fmain\x2frdpSteps\x2frdpWakeLock\x22,\x22deferredContainerView\x22\x3a\x22RecipeSteps\x22\x7d,\x22viewName\x22\x3a\x22RecipeSteps\x22\x7d'); var configuration = {"initAreImagesHidden":false,"hideImagesEventName":"HideStepShots","showImagesEventName":"ShowStepShots","hideImagesButtonText":"Hide Images","showImagesButtonText":"Show Images","hideImagesClass":"rdpHideStepImages"}; var moduleName = 'recipeStepShots'; var isVueModule = true; GeneralMills.PandoSites.RegisterControlInstance(moduleName, configuration, componentMetadata, isVueModule) }); })();
(function() { document.addEventListener('DOMContentLoaded', function() { var componentMetadata = JSON.parse('\x7b\x22componentName\x22\x3a\x22VideoWatchButton_3f096167-8a59-43c4-961a-84f57d84be42\x22,\x22deferOptions\x22\x3a\x7b\x22deferComponent\x22\x3atrue,\x22deferType\x22\x3a\x22OnDemand\x22,\x22deferId\x22\x3a\x22r99447b4dd0044ef49249d6bbd31940c4\x22,\x22deferredContainerId\x22\x3a\x22\x2fmain\x2frdpSteps\x2frdpWakeLock\x22,\x22deferredContainerView\x22\x3a\x22RecipeSteps\x22\x7d,\x22viewName\x22\x3a\x22VideoWatchButton\x22\x7d'); var configuration = {"videoId":"Ecy0MpweQ5w"}; var moduleName = 'videoWatchButton'; var isVueModule = false; GeneralMills.PandoSites.RegisterControlInstance(moduleName, configuration, componentMetadata, isVueModule) }); })();
© 2020 ®/TM General Mills All Rights Reserved
(function() { document.addEventListener('DOMContentLoaded', function() { var componentMetadata = JSON.parse('\x7b\x22componentName\x22\x3a\x22DoubleClick_209479ee-0a85-47e2-a054-9a45b83d467a\x22,\x22deferOptions\x22\x3a\x7b\x22deferComponent\x22\x3atrue,\x22deferType\x22\x3a\x22OnDemand\x22,\x22deferId\x22\x3a\x22r40566b86303e4d0e925ff89c7d2e4f47\x22,\x22deferredContainerId\x22\x3a\x22\x2fmain\x2frdpFeatureAd\x22,\x22deferredContainerView\x22\x3a\x22DoubleClick\x22\x7d,\x22viewName\x22\x3a\x22DoubleClick\x22\x7d'); var configuration = {"adId":"OMP/quericavida/recipes/300x250_top","minPageWidth":"800","maxPageWidth":"9999","defaultMinPageWidth":"1000","defaultMaxPageWidth":"9999","enableLyticsIntegration":true,"lyticsWaitTimeThreshold":5000,"size":"[[300,600],[300,250]]","refreshWhenViewed":false,"adContainerId":"b53b58d2-edab-41e1-a5dc-6f3c1337b123","doubleClickAdContainerId":"ba7319bb-a6f0-4313-b671-8f9168d7afed","adCaptionText":"Advertisement","networkCode":"/15704463/","relevantMetadata":["Bake","Dessert"],"privacyOptOut":false}; var moduleName = 'doubleClick'; var isVueModule = true; GeneralMills.PandoSites.RegisterControlInstance(moduleName, configuration, componentMetadata, isVueModule) }); })();
(function() { document.addEventListener('DOMContentLoaded', function() { var componentMetadata = JSON.parse('\x7b\x22componentName\x22\x3a\x22DoubleClick_0cfeeadf-8841-41d0-bcd1-f69250cf0ac4\x22,\x22deferOptions\x22\x3a\x7b\x22deferComponent\x22\x3atrue,\x22deferType\x22\x3a\x22OnDemand\x22,\x22deferId\x22\x3a\x22r2fe57ea2359e47a1b1ee408ed0e6ecb3\x22,\x22deferredContainerId\x22\x3a\x22\x2fmain\x2frdpFeatureAd\x22,\x22deferredContainerView\x22\x3a\x22DoubleClick\x22\x7d,\x22viewName\x22\x3a\x22DoubleClick\x22\x7d'); var configuration = {"adId":"OMP/quericavida/recipes/728x90_top","minPageWidth":"800","maxPageWidth":"999","defaultMinPageWidth":"1000","defaultMaxPageWidth":"9999","enableLyticsIntegration":true,"lyticsWaitTimeThreshold":5000,"size":"[[728, 90], [970, 90]]","refreshWhenViewed":false,"adContainerId":"1a8d0cbf-bddb-43d1-bb00-fc42f0ab2fed","doubleClickAdContainerId":"5af69123-9c6f-43dc-8e25-bb3f87b5c077","adCaptionText":"Advertisement","networkCode":"/15704463/","relevantMetadata":["Bake","Dessert"],"privacyOptOut":false}; var moduleName = 'doubleClick'; var isVueModule = true; GeneralMills.PandoSites.RegisterControlInstance(moduleName, configuration, componentMetadata, isVueModule) }); })();
(function() { document.addEventListener('DOMContentLoaded', function() { var componentMetadata = JSON.parse('\x7b\x22componentName\x22\x3a\x22DoubleClick_3b053ad7-affc-4295-9966-00f47602a6b3\x22,\x22deferOptions\x22\x3a\x7b\x22deferComponent\x22\x3atrue,\x22deferType\x22\x3a\x22OnDemand\x22,\x22deferId\x22\x3a\x22r1ae0ae6651da41beb99e743da5a811b7\x22,\x22deferredContainerId\x22\x3a\x22\x2fmain\x2frdpFeatureAd\x22,\x22deferredContainerView\x22\x3a\x22DoubleClick\x22\x7d,\x22viewName\x22\x3a\x22DoubleClick\x22\x7d'); var configuration = {"adId":"OMP/m_quericavida/recipes/300x250_top","minPageWidth":"250","maxPageWidth":"799","defaultMinPageWidth":"1000","defaultMaxPageWidth":"9999","enableLyticsIntegration":true,"lyticsWaitTimeThreshold":5000,"size":"[[300,250]]","refreshWhenViewed":false,"adContainerId":"ec3e380f-748b-4134-ab3e-4d998d0c7115","doubleClickAdContainerId":"630e74ad-5f77-4d54-a547-ca76262ffc3d","adCaptionText":"Advertisement","networkCode":"/15704463/","relevantMetadata":["Bake","Dessert"],"privacyOptOut":false}; var moduleName = 'doubleClick'; var isVueModule = true; GeneralMills.PandoSites.RegisterControlInstance(moduleName, configuration, componentMetadata, isVueModule) }); })();
(function() { document.addEventListener('DOMContentLoaded', function() { var componentMetadata = JSON.parse('\x7b\x22componentName\x22\x3a\x22RelatedContent_ab7b59ec-c371-4c32-abe9-ac75197825f6\x22,\x22deferOptions\x22\x3a\x7b\x22deferComponent\x22\x3atrue,\x22deferType\x22\x3a\x22OnDemand\x22,\x22deferId\x22\x3a\x22reaf7863c74cd4d7a963dd9da12ac230e\x22,\x22deferredContainerId\x22\x3a\x22\x2fmain\x2frdpRelatedContent2\x22,\x22deferredContainerView\x22\x3a\x22RecipeDetail\x22\x7d,\x22viewName\x22\x3a\x22RelatedContent\x22\x7d'); var configuration = {}; var moduleName = 'relatedContent'; var isVueModule = true; GeneralMills.PandoSites.RegisterControlInstance(moduleName, configuration, componentMetadata, isVueModule) }); })();
(function() { document.addEventListener('DOMContentLoaded', function() { var componentMetadata = JSON.parse('\x7b\x22componentName\x22\x3a\x22RelatedContent_6baa3312-5bf3-4b63-aa78-22158dc96112\x22,\x22deferOptions\x22\x3a\x7b\x22deferComponent\x22\x3atrue,\x22deferType\x22\x3a\x22OnDemand\x22,\x22deferId\x22\x3a\x22r084ebeadeb1a4f7394d66bbcd59921e1\x22,\x22deferredContainerId\x22\x3a\x22\x2fmain\x2frdpRelatedContent1\x22,\x22deferredContainerView\x22\x3a\x22RecipeDetail\x22\x7d,\x22viewName\x22\x3a\x22RelatedContent\x22\x7d'); var configuration = {}; var moduleName = 'relatedContent'; var isVueModule = true; GeneralMills.PandoSites.RegisterControlInstance(moduleName, configuration, componentMetadata, isVueModule) }); })();
(function() { document.addEventListener('DOMContentLoaded', function() { var componentMetadata = JSON.parse('\x7b\x22componentName\x22\x3a\x22ThirdPartyScript_b68d5459-0a8b-4d7e-9d4d-8d7702df9bba\x22,\x22deferOptions\x22\x3a\x7b\x22deferComponent\x22\x3atrue,\x22deferType\x22\x3a\x22OnDemand\x22,\x22deferId\x22\x3a\x22r5c2c15a65c114a99a8784c52070da9eb\x22,\x22deferredContainerId\x22\x3a\x22\x2fmain\x2frdpZergnet1\x22,\x22deferredContainerView\x22\x3a\x22ThirdPartyScript\x22\x7d,\x22viewName\x22\x3a\x22ThirdPartyScript\x22\x7d'); var configuration = {"placeholderName":"rdpZergnet1","domContent":"\u003cdiv id=\u0022external-content-container-46327\u0022\u003e\u003cdiv id=\u0022zergnet-widget-46327\u0022\u003e\u003c/div\u003e\u003c/div\u003e","scriptContent":"//www.zergnet.com/zerg.js?id=46327"}; var moduleName = 'thirdPartyScript'; var isVueModule = true; GeneralMills.PandoSites.RegisterControlInstance(moduleName, configuration, componentMetadata, isVueModule) }); })();
(function() { document.addEventListener('DOMContentLoaded', function() { var componentMetadata = JSON.parse('\x7b\x22componentName\x22\x3a\x22DoubleClick_17402628-f426-4216-8cb2-527bbb85a1a4\x22,\x22deferOptions\x22\x3a\x7b\x22deferComponent\x22\x3atrue,\x22deferType\x22\x3a\x22OnDemand\x22,\x22deferId\x22\x3a\x22rfe86d46dc20e451387e7b64c064a582d\x22,\x22deferredContainerId\x22\x3a\x22\x2fmain\x2frdpSecondaryAd\x22,\x22deferredContainerView\x22\x3a\x22DoubleClick\x22\x7d,\x22viewName\x22\x3a\x22DoubleClick\x22\x7d'); var configuration = {"adId":"OMP/quericavida/recipes/300x250_bottom","minPageWidth":"800","maxPageWidth":"9999","defaultMinPageWidth":"1000","defaultMaxPageWidth":"9999","enableLyticsIntegration":true,"lyticsWaitTimeThreshold":5000,"size":"[[300,600],[300,250]]","refreshWhenViewed":false,"adContainerId":"a78e66cc-4677-466a-9710-c5f228aa9a56","doubleClickAdContainerId":"832adbc3-4733-4a60-b137-ae0c91a450d6","adCaptionText":"Advertisement","networkCode":"/15704463/","relevantMetadata":["Bake","Dessert"],"privacyOptOut":false}; var moduleName = 'doubleClick'; var isVueModule = true; GeneralMills.PandoSites.RegisterControlInstance(moduleName, configuration, componentMetadata, isVueModule) }); })();
(function() { document.addEventListener('DOMContentLoaded', function() { var componentMetadata = JSON.parse('\x7b\x22componentName\x22\x3a\x22DoubleClick_08734287-0e98-4513-a9ae-d4ed8fcc090d\x22,\x22deferOptions\x22\x3a\x7b\x22deferComponent\x22\x3atrue,\x22deferType\x22\x3a\x22OnDemand\x22,\x22deferId\x22\x3a\x22rc83a48737a2d4d45a357ccf501ccef58\x22,\x22deferredContainerId\x22\x3a\x22\x2fmain\x2frdpSecondaryAd\x22,\x22deferredContainerView\x22\x3a\x22DoubleClick\x22\x7d,\x22viewName\x22\x3a\x22DoubleClick\x22\x7d'); var configuration = {"adId":"OMP/quericavida/recipes/728x90_bottom","minPageWidth":"800","maxPageWidth":"999","defaultMinPageWidth":"1000","defaultMaxPageWidth":"9999","enableLyticsIntegration":true,"lyticsWaitTimeThreshold":5000,"size":"[[728, 90], [970, 90]]","refreshWhenViewed":false,"adContainerId":"c47bfb23-1926-4b34-9588-6a78c988a4c7","doubleClickAdContainerId":"26222cc2-f16b-44ac-8ed9-fd7b3bd9b916","adCaptionText":"Advertisement","networkCode":"/15704463/","relevantMetadata":["Bake","Dessert"],"privacyOptOut":false}; var moduleName = 'doubleClick'; var isVueModule = true; GeneralMills.PandoSites.RegisterControlInstance(moduleName, configuration, componentMetadata, isVueModule) }); })();
(function() { document.addEventListener('DOMContentLoaded', function() { var componentMetadata = JSON.parse('\x7b\x22componentName\x22\x3a\x22DoubleClick_147e3d6b-a87a-4ebe-b45b-4661cb73be28\x22,\x22deferOptions\x22\x3a\x7b\x22deferComponent\x22\x3atrue,\x22deferType\x22\x3a\x22OnDemand\x22,\x22deferId\x22\x3a\x22r9c1f8de6c0c348b782f480bfd46198f7\x22,\x22deferredContainerId\x22\x3a\x22\x2fmain\x2frdpSecondaryAd\x22,\x22deferredContainerView\x22\x3a\x22DoubleClick\x22\x7d,\x22viewName\x22\x3a\x22DoubleClick\x22\x7d'); var configuration = {"adId":"OMP/m_quericavida/recipes/300x250_bottom","minPageWidth":"250","maxPageWidth":"799","defaultMinPageWidth":"1000","defaultMaxPageWidth":"9999","enableLyticsIntegration":true,"lyticsWaitTimeThreshold":5000,"size":"[[300,250]]","refreshWhenViewed":false,"adContainerId":"46e525c4-1d21-4bca-96eb-b9fca85a2c12","doubleClickAdContainerId":"c974cbbb-1833-4e8b-8297-4704743ffa4a","adCaptionText":"Advertisement","networkCode":"/15704463/","relevantMetadata":["Bake","Dessert"],"privacyOptOut":false}; var moduleName = 'doubleClick'; var isVueModule = true; GeneralMills.PandoSites.RegisterControlInstance(moduleName, configuration, componentMetadata, isVueModule) }); })();
(function() { document.addEventListener('DOMContentLoaded', function() { var componentMetadata = JSON.parse('\x7b\x22componentName\x22\x3a\x22DoubleClick_a64e89d5-b3d5-45ea-8f7e-3efb4a0c90ce\x22,\x22deferOptions\x22\x3a\x7b\x22deferComponent\x22\x3atrue,\x22deferType\x22\x3a\x22OnDemand\x22,\x22deferId\x22\x3a\x22r8f6a36fa4b2b4cea9721dc7f3c916f33\x22,\x22deferredContainerId\x22\x3a\x22\x2fmain\x2frdpTernaryAd\x22,\x22deferredContainerView\x22\x3a\x22DoubleClick\x22\x7d,\x22viewName\x22\x3a\x22DoubleClick\x22\x7d'); var configuration = {"adId":"OMP/quericavida/recipes/300x250_bottom","minPageWidth":"800","maxPageWidth":"9999","defaultMinPageWidth":"1000","defaultMaxPageWidth":"9999","enableLyticsIntegration":true,"lyticsWaitTimeThreshold":5000,"size":"[[300,600],[300,250]]","refreshWhenViewed":false,"adContainerId":"e759dfec-0310-4c6b-88ef-785e65c7cddb","doubleClickAdContainerId":"d8157ed9-b950-4803-9832-62b09b6cb640","adCaptionText":"Advertisement","networkCode":"/15704463/","relevantMetadata":["Bake","Dessert"],"privacyOptOut":false}; var moduleName = 'doubleClick'; var isVueModule = true; GeneralMills.PandoSites.RegisterControlInstance(moduleName, configuration, componentMetadata, isVueModule) }); })();
(function() { document.addEventListener('DOMContentLoaded', function() { var componentMetadata = JSON.parse('\x7b\x22componentName\x22\x3a\x22DoubleClick_a64e89d5-b3d5-45ea-8f7e-3efb4a0c90ce\x22,\x22deferOptions\x22\x3a\x7b\x22deferComponent\x22\x3atrue,\x22deferType\x22\x3a\x22OnDemand\x22,\x22deferId\x22\x3a\x22r512561585af04c46a231a082d17a55d6\x22,\x22deferredContainerId\x22\x3a\x22\x2fmain\x2frdpTernaryAd\x22,\x22deferredContainerView\x22\x3a\x22DoubleClick\x22\x7d,\x22viewName\x22\x3a\x22DoubleClick\x22\x7d'); var configuration = {"adId":"OMP/quericavida/recipes/300x250_bottom","minPageWidth":"800","maxPageWidth":"9999","defaultMinPageWidth":"1000","defaultMaxPageWidth":"9999","enableLyticsIntegration":true,"lyticsWaitTimeThreshold":5000,"size":"[[300,600],[300,250]]","refreshWhenViewed":false,"adContainerId":"b3a48af8-89e0-40ac-a100-79a07d4d8700","doubleClickAdContainerId":"0997d330-2f20-49af-b567-f14fdd6634bc","adCaptionText":"Advertisement","networkCode":"/15704463/","relevantMetadata":["Bake","Dessert"],"privacyOptOut":false}; var moduleName = 'doubleClick'; var isVueModule = true; GeneralMills.PandoSites.RegisterControlInstance(moduleName, configuration, componentMetadata, isVueModule) }); })();
(function() { document.addEventListener('DOMContentLoaded', function() { var componentMetadata = JSON.parse('\x7b\x22componentName\x22\x3a\x22ThirdPartyScript_afac409e-89cc-48fc-8613-81c0dcf191d7\x22,\x22deferOptions\x22\x3a\x7b\x22deferComponent\x22\x3atrue,\x22deferType\x22\x3a\x22OnDemand\x22,\x22deferId\x22\x3a\x22r5c5eeec4454342579c93953415160331\x22,\x22deferredContainerId\x22\x3a\x22\x2fmain\x2frdpZergnet2\x22,\x22deferredContainerView\x22\x3a\x22ThirdPartyScript\x22\x7d,\x22viewName\x22\x3a\x22ThirdPartyScript\x22\x7d'); var configuration = {"placeholderName":"rdpZergnet2","domContent":"\u003cdiv id=\u0022external-content-container-46331\u0022\u003e\u003cdiv id=\u0022zergnet-widget-46331\u0022\u003e\u003c/div\u003e\u003c/div\u003e","scriptContent":"//www.zergnet.com/zerg.js?id=46331"}; var moduleName = 'thirdPartyScript'; var isVueModule = true; GeneralMills.PandoSites.RegisterControlInstance(moduleName, configuration, componentMetadata, isVueModule) }); })();